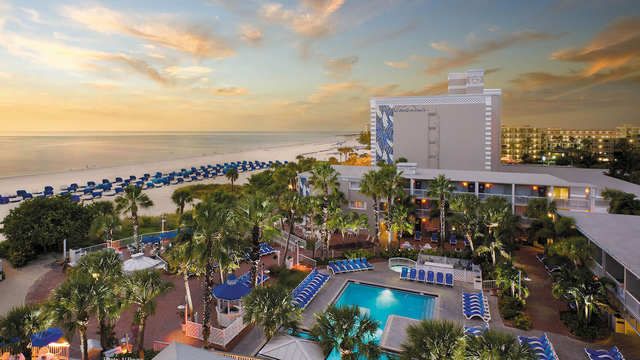 Tampa Bay hotels beef up security after Las Vegas shooting
PINELLAS COUNTY, Fla. – Hotel managers across Tampa Bay are making big changes to keep you safe.
The tragedy in Las Vegas has completely changed the way our local resorts look at security, particularly for upcoming events.
"This is a whole level of thinking we've never had to have before and it's frightening," Overton said with a sigh.Just down the street at the Bilmar Resort in Treasure Island, General Manager Clyde Smith has been searching bags for years.
"I'd rather say I'm sorry to someone then not check things out and have to apologize to 100 other people," Smith explained.TradeWinds hotel guest Patricia Davis-Baca welcomes the extra security.
Good, I hope they do" she said.We also checked with several hotels across the bay in Tampa and St Pete as well.
Hotel managers across Tampa Bay are making big changes to keep you safe. The tragedy in Las Vegas has completely changed the way our local resorts look at security, particularly for upcoming…

@abcactionnews: Tampa Bay hotels beef up security after Las Vegas shooting
PINELLAS COUNTY, Fla. – Hotel managers across Tampa Bay are making big changes to keep you safe. The tragedy in Las Vegas has completely changed the way our local resorts look at security, particularly for upcoming events. 

On St. Pete Beach they're getting ready to welcome 20,000 people in a few weeks for the St. Pete Beach Bike Fest, the biggest concert series they've ever hosted. Now, every nearby building is being factored into the security plan. 

At TradeWinds Island Resorts in St Pete Beach, the vibe is beachy and the atmosphere is friendly. General Manager Keith Overton wants to make sure everyone checking in to the TradeWinds truly feels like they're on vacation. That's what makes beefing up security a tricky task. 

"The balance is very delicate. When you start adding security wands, armed guards and other measures, you almost send a signal that it's unsafe to be here."

The shooting in Las Vegas has Overton rethinking everything, from armed guards to bag checks.

"You kind of have to step back a little and say 'are we ok?' I think we are but obviously they thought they were in Las Vegas as well." 

The resort already hires Pinellas County deputies to patrol during peak times like Spring Break. Their staff also participate in security training sessions, but the tragedy in Vegas brings to light new issues.

"This is a whole level of thinking we've never…