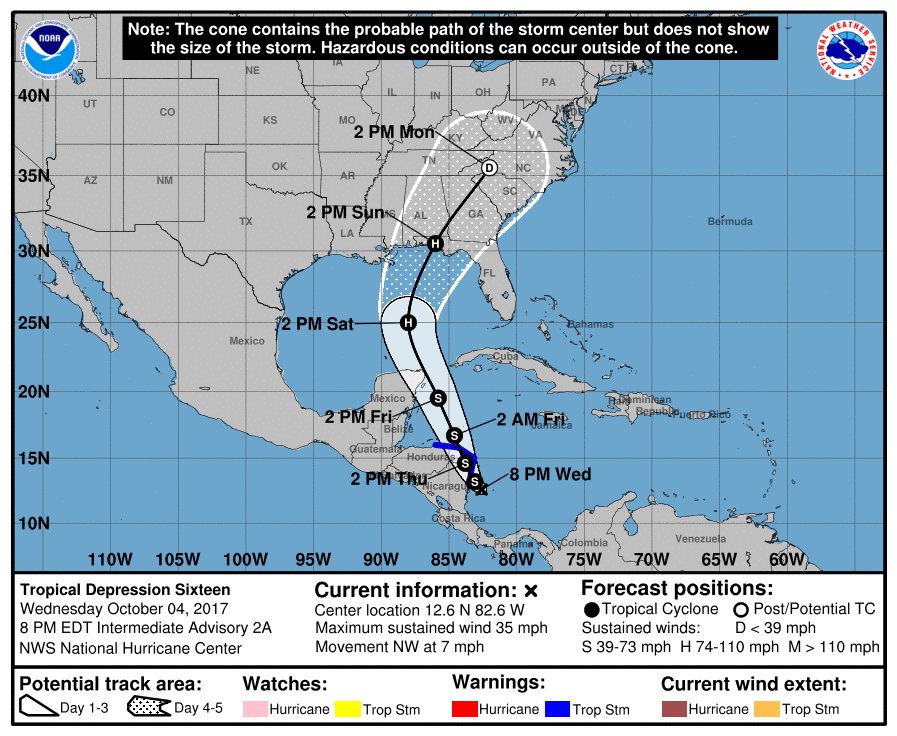 System strengthens into Tropical Depression 16, could become Tropical Storm Nate
As of 11 p.m. Wednesday, the storm had sustained winds of 35 mph and was moving northwest at 6 mph, the National Hurricane Center reported.
The depression was forecast to strengthen into Tropical Storm Nate early Thursday before making landfall in Nicaragua shortly thereafter, according to the NHC track.
The storm will then traverse Nicaragua and Honduras and continue north-northwest, possibly clipping the Yucatan Peninsula on Friday night before entering the Gulf.
NHC forecasters predicted the storm would make U.S. landfall Sunday night as a hurricane near Pensacola.
If the storm stays on the NHC's track, the Tampa Bay area could experience indirect effects, including wind, rain, rip currents and higher surf this weekend and into the following week, 10Weather WTSP meteorologist Grant Gilmore said.

Tropical Depression 16, a low pressure system in the Caribbean near Nicaragua, could develop into a hurricane by the weekend and eventually threaten the Florida panhandle.As of 11 p.m. Wednesday, the

@tbtnewspaper: System strengthens into Tropical Depression 16, could become Tropical Storm Nate:
Tropical Depression 16, a low pressure system in the Caribbean near Nicaragua, could develop into a hurricane by the weekend and eventually threaten the Florida panhandle.

As of 11 p.m. Wednesday, the storm had sustained winds of 35 mph and was moving northwest at 6 mph, the National Hurricane Center reported.

The depression was forecast to strengthen into Tropical Storm Nate early Thursday before making landfall in Nicaragua shortly thereafter, according to the NHC track. The storm will then traverse Nicaragua and Honduras and continue north-northwest, possibly clipping the Yucatan Peninsula on Friday night before entering the Gulf.

NHC forecasters predicted the storm would make U.S. landfall Sunday night as a hurricane near Pensacola. That forecast reflected a slight shift in the storm's track since earlier Wednesday, when officials said the storm could make landfall Sunday afternoon near Panama City.

The governments of Nicaragua, Honduras and Mexico issued tropical storm warnings. Those countries will likely see heavy rain from the storm.

It's difficult to predict how strong the system could be when it reaches the U.S. because of too many unknown variables, National Weather Service forecaster Dustin Norman said. But if it makes it to the Gulf, conditions there are favorable for development.

DOWNLOAD: Get the tbo Weather App and see where storms are headed

"Water temperatures are still extremely warm," Norman said, in the mid 80s. "And we are still in the main peak…
System strengthens into Tropical Depression 16, could become Tropical Storm Nate